Local Boat Trips
Diving in Daytona or New Smyrna Beach? Daytona Beach is renowned as one of the premiere diving destinations on the East Coast and we dive the best dive sites in Florida. Sea Dogs Dive Center has been pioneering these beautiful sites since 1987. We will show you abundant "big" fish life. There are no guarantees in nature, but turtles, reef sharks and eagle rays, are commonplace.

Repeat Visitors and Local Residents of Orlando and Daytona Beach dive with us! Every week there are numerous "repeat" customers on our boat - divers who have come back to Sea Dogs for their 2nd, 3rd, and even 4th time. Our customer's consistently dive with us time and time again. We are a "word of mouth" company. Also, most local divers who live in Daytona Beach or Orlando or "long term" seasonal residents dive with us- the locals know our reputation. "Dive with Sea Dogs" is common local knowledge.

We unequivocally have the best dive boat! Although, on the surface this may not seem like a big deal- it does make a big difference being on a clean, comfortable, boat with ample space to nap, sun-bathe, or socialize in both the sun and the shaded areas of the boat. Ask about bringing your "non-diving" companion aboard for the day.
We cater to your experience level. Most dive operators put limitations on their entire boat of divers, treating them as an aggregate group and don't respect or cater to your individual level of experience.
For experienced and advanced divers we respect your experience, if you have a computer- you and your buddy are allowed to dive "your" profile. If you have good lungs and want to stay down for more than 45 minutes on the 2nd dive (and your computer allows you to) go right ahead, we don't rush to pack it in at the end of the day. Many other dive operators will place an experienced or advanced diver in an aggregate boat group- forcing them to dive with beginner divers, and placing time and depth limitations on you- this is not us however.
For beginner and intermediate divers, we have experienced dive-master guides on every trip- to make your experience comfortable and safe. Our dive-masters set up all of your equipment for your, change tanks between dives, help you feel comfortable with your equipment and questions pre-dive, and dive at your experience level. They are there to make your dive safe and navigate you back to the boat, so you can enjoy the scenery.
Friendly, personable staff- from the top-down. We set the tone from the moment you arrive, and throughout the day... conversing and joking with all, creating a pleasurable day on the water. Even on those few days that you don't spot one eagle ray or reef shark, you will still come back thinking "there is no place I'd rather be than out on the Sea Dog Diver with the Florida sun beating down and those cool East Coast breezes". By the end of the day you will know all the guests and staff's name, where they are from, about 20 new jokes or quick wit lines, and have laughed as many times.
Efficient "topnotch" dive operation & management. It starts at the top, and works its way down. Rick Coleman (owner) sets the tone with his hardworking ethics. His employees are under constant pressure to "measure up" to his examples and expectations." If you have time to lean, you have time to clean" anecdote fairly describes the work philosophy. When the guests exit the boat at the end of a dive day, the guides job just begins- rinsing down the boat, scrubbing the head, rinsing and emptying the bc's, filling the tanks. On light days, employees don't go home, they go to the shop and recheck tank valves and fix regulators. All of these little things add up! You don't know how many guests on the boat say "this is the cleanest boat I've ever been on".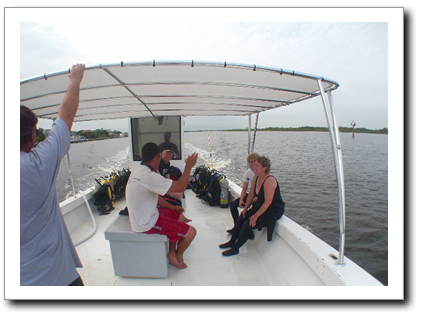 How does it work to get out of Ponce Inlet?
Call and book ahead, check into the dive shop at 7:30 am if you have your own gear or 7:15 if you need rental gear, sign up and sign the release form.
Our friendly crew will help you load and unload your gear.
What if you need gear or other items?
Tanks are included in the regular pricing, air and aluminum 80s are loaded for you!
We can rent you ALL the gear you need.
We also sell any diving equipment you might want.
What about new divers and safety?
We run a dive boat with a Licensed Captain and provide necessary safety equipment including and instructor or Divemaster to assist you with questions and lead the dive for divers new to our dive location.